CANNOT GET NEW? HOW ABOUT "LIKE NEW" AND AT A BETTER PRICE?
If you are looking for used bikes at a great price, Action Fours have the experience and knowledge to find you the best deals.
We principally deal with bulk orders, arranging container shipments to all locations worldwide (see below for notes about smaller orders).
For a bulk order cost estimate use our quote form to find out how much we could save you.
Below are a sample of bikes we have bought and shipped recently. More details can be seen on our order history page - for access to this page please email us for log in details.

Recent Auction Purchases
HARLEY DAVIDSON XL1200X FORTY-EIGHT
Year: 2010
Condition: 10/10
Price: $9,200
Shipped to: AUSTRALIA
KAWASAKI STX-15F
Year: 2007
Condition: 9/10
Price: $7000
Shipped to: Australia
YAMAHA YFM70RX RAPTOR
Year: 2009
Condition: 9/10
Price: $4000
Shipped to: DUBAI
HONDA VTX1300C6
Year: 2006
Condition: 9/10
Price: $5200
Shipped to: EGYPT
USA POWERSPORTS BUYING AGENTS / EXPORTERS
Action Fours buy used motorbikes and other powersports for customers all around the world. Established for over 40 years, we have unmatched experience in the used motorcycle market in the states, as well as dealing in ATVs and watercraft.
We are one of the largest buyers of used motorcycles in the USA, buying at Auction and privately throughout the year. Some of our latest purchases are shown above - these are all actual orders that we have recently shipped to our customers. Click here to see how we do business...
We regularly attend 4 auctions a month at the biggest auction provider in the US - click here to find out more about NPA auctions
PLEASE NOTE
In general It is rarely economic to source a single motorcycle for export from the US. Possible exceptions are very high value items, otherwise we usually require orders of at least two units.
Single unit orders are possible for New Zealand, the UK and Western Europe, where we can include orders as part of our frequent container shipments. 
If you are interested in obtaining a number of units or are based in one of the regions listed above, click here to view our quote form.

Auction & Motorcycle news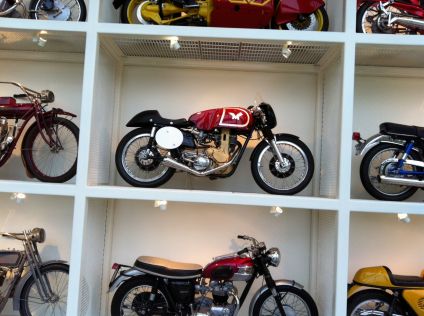 Sun, Apr 6th, 2014 12:00:00 am
Barber Motorsport Museum: Home to the world's best motorcycle collection, the museum now has over 1200 vintage and modern motorcycles and racecars and the largest collection of Lotus cars as well as other significant makes. The collection is the largest of its kind in the world. There are approximately 600 of the 1200 motorcycles on display at any given time. These bikes range from 1902 to current-year production. The common street bikes represented, as well as rare one-off Gran Prix race machinery.
YOU HAVE TO VISIT.... " hours from Atlanta. For those of you who know the Guggenheim Museum in NYC, it is like that but filled with bikes.


DEALER AND MANUFACTURER
AUCTIONS EVERY MONTH
2000+ bikes available
NPA Auction Dates:
San Diego 1st Week of the month
Dallas  2nd Week of the month
Cincinnati and Atlanta 3rd week of the month
NPA AUCTION - LOGIN NEWS
A message to our esteemed customers: the old Action Fours login for the NPA website has changed for 2014.
Please contact us for new login details.
Images from our blog