Buying motorcycles from Action Fours
How we work:
We buy at the dealer only auctions all over the USA, from a network of Dealers throughout the USA and direct from private sellers. We inspect, evaluate and report back to you. We buy, prepare, load, do all export documents and ship it to you.
Single bikes to Container loads.
We normally buy for dealer customers who have their own container full of Motorcycles. We can consolidate shipments to the same country for multiple clients as well. Shipping as little as one/two bikes may/may not be practical. We are glad to quote and advise re anything/anywhere, even if we cannot assist otherwise. We have frequent containers to the UK & New Zealand.
Auction Purchases:
There are 9 live auctions and frequent E-Sales every month at which around 10,000 bikes are sold! You tell us your maximum bids and we do our best to buy for you. If/when we buy for less, you pay less.
Ebay:
We can buy off E-Bay but there are some real problems with that. Descriptions are hard to verify and the USA is a big place. Thus inspection costs, risks and inland transport often make Ebay a poor buying venue.
Dealers:
"Truth in advertising" laws are weak in the USA. Dealers here are notorious for adding on lots of costs when you actually turn up to buy, so beware of the advertised or "sticker price", real price is usually much higher. 
Payment:
Before we buy at auctions and from dealers, we require a deposit (20% of probable spend). We make purchases only for serious, committed clients. A 100% deposit is required for purchases from Private Party sellers. Bank transfer details will be found in out Terms of Business, available on request.
Your deposit is 100% refundable in the event you do not get the bike(s) you want within an agreed period. You will be advised of any charges that may apply (inspection, travel, etc.) and can approve them or not in advance.
Quotes:
Before you commit to buy with us we can give you an estimate of all costs, delivered to your Port of Import.
Other costs:
In addition to the auction price there is an Auction fee charged by the Auction company, (based on sale price). All prices shown in our "Order History" include this fee. Prices shown by the Auction company do not. What we pay is the "net" price. To the Net Price, add our commission and transport to your destination country. We offer optional Marine Insurance at very low cost.
We CANNOT help with your own country Import Procedure and you must pay all Import Taxes / Duties and Registration fees yourself. We can refer you to a Broker/Import Agent in your country if needed.
Note on USA Bike Quality:
Because most motorcycles here are used only for recreation and are garage kept, the quality of American second hand bike is usually far better than the rest of the world. An 8000 mile bike in the USA will often look like a 500 mile bike in Europe.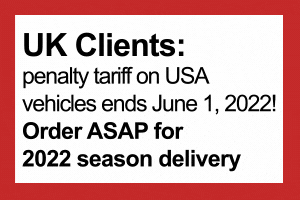 NINE LIVE AUCTIONS & NUMEROUS
E-SALES EVERY MONTH
10,000 motorcycles, ATVs & watercraft available!