Motorcycle auctions in the US
Buying motorbikes at the NPA auctions
National Powersport Auctions is the largest auction organisation in the powersports industry. Created over 20 years ago by founders from the industry, NPA serves lenders and dealers throughout the US.
There are 4 auctions a month that we attend at which over 5000 bikes are sold. If you are looking to buy a used bike or other powercraft, we are in the best position to help and advise. Our role is to assess and purchase the best deals possible for our clients, and then organise the shipping and paperwork for export around the world.
It is possible to preview 1000's of bikes in upcoming auctions on the NPA website via the Live Auctions link (previews only complete the day before auction). The Dealers link leads to a value guide section which can help assess average prices.
If you are interested in specific models or are looking for bargains generally, we can find and report on great deals to be found at auction - click here to use our enquiry form and let us find your ideal used bike!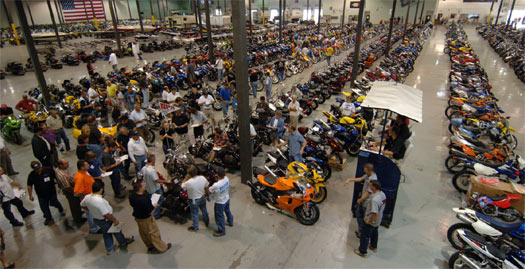 DEALER AND MANUFACTURER
AUCTIONS EVERY MONTH
2000+ bikes available
NPA Auction Dates:
San Diego 1st Week of the month
Dallas  2nd Week of the month
Cincinnati and Atlanta 3rd week of the month
Images from our blog